Anyone who's played video games or watched anime for any semblance of time knows that there is quite the undermarket for hentai - which is porn. For those of you who ever lusted after Dead or Alive's busty gals or any number of Final Fantasy cockteases, well, thanks to various "talented" artists, you can see them in a number of illicit situations.
Some devoted artists have in fact crafted works of art devoted to showing our favorite characters naked. Castlevania is hardly one of the more popular series - you can find a small handful of non-porn doujinshi in the Art section, but these are the only two hentai ones I could dig up. Now this has posed a quandry to me, your fellow web developer guy. I cannot post pornography in accordance with so very many rules, but I still feel it's interesting enough to see. So what you find below is an abbreviated tour of some of the doujinshi (fan comics) that can be found out there, with the nakedness removed. Still, I advise that if you extremely conservative and the very concept of declothed video game characters disgusts you, you'd be best to turn around now. Actually, even if this does intrigue you, you should leave. If anything, these comics will convince you why video game porn is just a very, very bad idea. And by the way, don't bother asking me for the full length, uncensored versions of these comics, because I won't give them to you. But let's begin, shall we?
Castlevania Dracula X by Ozone Works
| | |
| --- | --- |
| Well, it starts off innocently enough...other than the boobs, of course. | And leads into this terribly drawn Sypha picture. Things are not looking good. |
| Maria begins to gaze into the moonlight and begins to remember. | She remembers someone's death...there was a whole scene with Maria watching Richter and Annette together through a doorway, but very little of that scene could've been salvaged. |
| What you DON'T see here is that, in her grief, she decides to use Richter's whip to...umm...remind herself of him. | Up steps a rather ugly Richter, obviously dismayed at the proceedings occuring in front of him. |
| I don't think it would be possible to have Castlevania porn without using the whips in some kinky manner. | And Maria enjoyed it. Good for her. |
| Ewwww. It's a good thing these were saved for the last page. | The back cover is wrong on many, many levels. |
Nise Dracula X
| | |
| --- | --- |
| Alright, on to the next one. Slightly better artwork, yes. | I'm too lazy to translate that kanji, but it certainly is ominous, isn't it? |
| Oh my. Things have gone downhill rather quickly. | Getting worse.... |
| And worse..... | And worse still...obviously you can see where this is going, even if your brain tried to convince you otherwise. |
WARNING:
FOR YOUR OWN GOOD,
DON'T GO ANY FURTHER.
I ASSURE YOU, YOU DON'T WANT TO SEE
ANY OF THIS.
IT IS TERRIBLY WRONG AND YOU WILL
HATE YOURSELF FOR THE REST OF
YOUR LIFE IF YOU SCROLL
DOWN ANY MORE.
CONSIDER THIS YOUR LAST
WARNING.
| | |
| --- | --- |
| See? I fucking told you. | And right now you should be goddamned thanking me that the laws of decency have prevented me from putting up most of the rest of this god forsaken comic. In this particular panel, Maria calls out for Alucard to save her. |
| Unfortunately, her calls go unheeded, as Alucard is rather busy as the moment. This is probably the only amusing part of this...abomination. | I think this is the story on how the doujinshi author stopped playing Final Fantasy 7 and fell in love with Akumajou Dracula X. |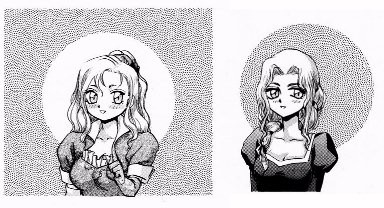 For someone who had just been violated in the most terrifying of manners, Maria seems awfully chipper. There is also a random picture of Lisa here.

So, there you have it - a tour of Castlevania hentai that you probably wish you never took. However, this only covers approximately one half of what is out there. Alucard is quite a pretty boy, and is very popular with the ladies, which means lots and lots of gay porn - or yaoi, if you prefer it that way. I've seen doujinshis of these on eBay, though never saw any of the inside. Alas, the only thing I could dig up is this.
Dilligent reader Ann submitted his own bit of artwork as well. He censored it with a smiley, but it was still a little too racy to put up, so I had to give it the old mosaic treatment. If you made it this far down, surely nothing can shock you much.
I'm so sorry. Head back to the Features page